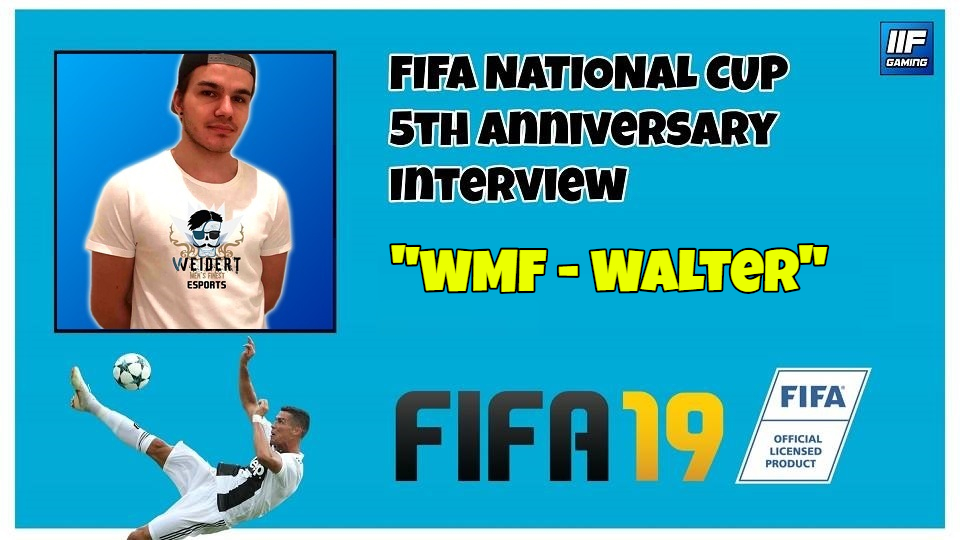 WMF Walter - FIFA 19 National Cup Interview (FR + ENG) !
(FR) Interview avec "WMF – Walter", joueur "Esport Pro" représentant "
Weidert men's finest
" sur tout type de compétition.
1) Combien de fois as-tu participé à la « FIFA National Cup » et que représente ce tournoi pour toi ?
J'ai participé 2 fois à cette compétition. Cette année sera donc ma 3e. La Fifa National Cup est un des tournois les plus importants de l'année.


2) Quel est ton meilleur souvenir ?
Mon meilleur souvenir est celui de l'année passée où j'ai réussi à créer la surprise en éliminant FCD03 Ciscinho en 1/8e de finale, cela m'a donné de la confiance pour arriver jusqu'en finale.


3) Quel est ton pire souvenir ?
Mon pire souvenir vient également du tournoi sur Fifa18, où je perds la finale face à PN Diogo. Cela s'est joué sur des petits détails qui font la différence. Je n'étais pas loin du titre.


4) Quel est ton rival N°1, l'homme à battre ?
Pour moi, il y a clairement 2 hommes à battre: PN Diogo et FCD03 Ciscinho. En éliminant un des 2, nous savons que nous avons une réelle chance de remporter le titre.


5) Comment estimes-tu tes chances, quel est ton objectif personnel pour cette année ?
Je pense que cette année avec ce Fifa, tout est possible. La compétition sera compliquée pour tout le monde. Mon objectif personnel est d'arriver en finale.



Affrontez « WMF - Walter » lors de la FIFA 19 National Cup :
Infos + Inscription : https://www.11f.lu/page/fifa-19-national-cup-60166
--------------------------------------------------------------------------



(EN) Interview with "WMF - Walter", "Esport Pro player" representing "Weidert men's finest" on any type of competition.



1) How many times have you participated in the FIFA National Cup and what does this tournament represent for you?
I participated twice in this competition. This year will be my 3rd. The Fifa National Cup is one of the most important tournaments of the year.


2) What is your best memory?
My best memory is the one of last year when I managed to create a surprise by eliminating FCD03 Ciscinho in the 1/8 finals, it gave me confidence to reach the final.


3) What is your worst memory?
My worst memory comes also from the tournament on Fifa18, where I lose the final against PN Diogo. Small details made the difference. I was not far from the title.


4) Who is your No. 1 rival, the man to beat?
For me, there are clearly 2 men to beat: PN Diogo and FCD03 Ciscinho. By eliminating one of the two, we know that we have a real chance of winning the title.


5) How do you estimate your chances, what is your personal goal for this year?
I think this year with this Fifa, everything is possible. The competition will be complicated for everyone. My personal goal is to reach the final.



Take on «WMF - Walter» at the FIFA 19 National Cup:
Infos + Registration: https://www.11f.lu/page/fifa-19-national-cup-60166