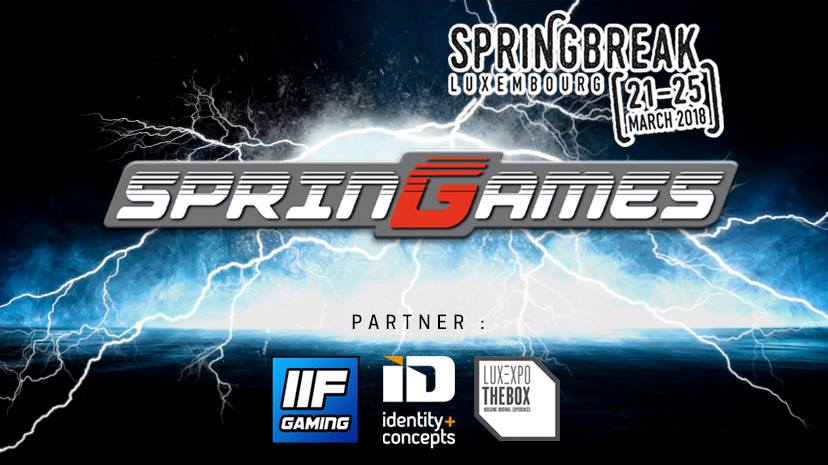 SprinGames @Luxexpo : Infomail
(FR) La 2e édition de la "Springames @Luxexpo" arrive à grands pas. 



Nous vous invitons à nous rejoindre du 21-25/03/18 pour : 



- participer à des tournois Esport
- tester les nouvelles sorties 
- tester la zone "Retrogaming"
- visiter les différents stands de vente
- et bien plus encore...


Inscrivez-vous dès maintenant, dans le formulaire ci-dessous, et dites-nous à quel(s) tournoi(s) vous souhaitez participer (Inscription + participation = GRATUIT) : 

--> Formulaire : Infomail



De cette facon, nous pourrons vous informer en avant-premiere des différentes activités qui se dérouleront sur place. 

Tournois (Inscription sur place) : 
- Pizza Hut ROYALE Cup (Vendredi 23/03/18 - inscription à partir de 16h)
- Orange FIFA Cup (Samedi 24/03/18 - inscription à partir de 10h)
- Bâloise ROCKET Cup (Dimanche 25/03/18 - inscription à partir de 10h)


--------------------------------------------------------------------------------


(EN) The 2nd edition of the "Springames @Luxexpo" is coming :
We invite you to join us from 21-25/03/18 to:

- participate in Esport tournaments
- play new games
- play retro games
- visit the various stands
- And much more...
Register now, in the form below, and tell us which tournament(s) you want to participate in (Registration + participation = FREE):
In this way, we will be able to inform you in preview of the various activities which will take place on the spot.


Tournaments (Open registration) : 
- Pizza Hut ROYALE Cup (Friday 23/03/18 - inscription à partir de 16h)
- Orange FIFA Cup (Saturday 24/03/18 - inscription à partir de 10h)
- Bâloise ROCKET Cup (Sunday 25/03/18 - inscription à partir de 10h)