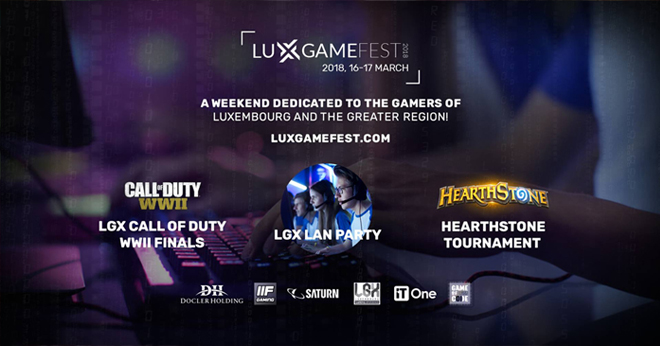 LuxGameFest 2018
The first edition of LuxGameFest will be held on march 16 - 17 at Forum Campus Geeseknäppchen. It will be an event for all the gamers at Luxembourg and its greater region. There will be 3 events in 1. Registration will start on January 24 at 12H00. Check this out!

Organizers: Farvest - Docler Holding - 11F Gaming - Saturn - LGX - IT One - Game of Code


LGX Lan Party

This is an event that brings people together to play video games using a local network. The players bring themselves their computer equipment (PCs or consoles) and their games. For their part, the organizers ensure the room, as well as the management of the network. There will be an external internet connection for every participant too. Register here.


LGX COD Grand Final (PS4)
Call of Duty: WWII - A breathtaking experience that redefines World War II for a new Gaming Generation.
Prizepool of 3200€ offered by SATURN and powered by "LGX - LUXEMBOURG GAMING XPERIENCE".
Register for one of the two online Qualifications now. The best team of each Qualification will play the Grand Final @ LuxGameFest on the mainstage. Register here.

Hearthstone Tournament
Sheathe your sword, draw your deck, and get ready for hearthstone - the fast-paced strategy card game that's easy to learn and massively fun.
Start a game and play your cards to sling spells, summon creatures, and command the heroes of warcraft in duels of epic strategy.
This tournament is free of charge and will take place on the saturday march 17. Register here.
Game of Code - Let's code together

Join this unique hackathon in Luxembourg organized by IT One, the first platform for ICT decision-makers in Luxembourg! Benefit from technical experts advice and exchange with other coding enthusiasts. Create your team or take part in a team and accept the challenge to develop an application in 24h.
Test yourself, share and prove that you are the best developer in the competition.
It will be fun, it will be geek, it will be hackathon! Register here