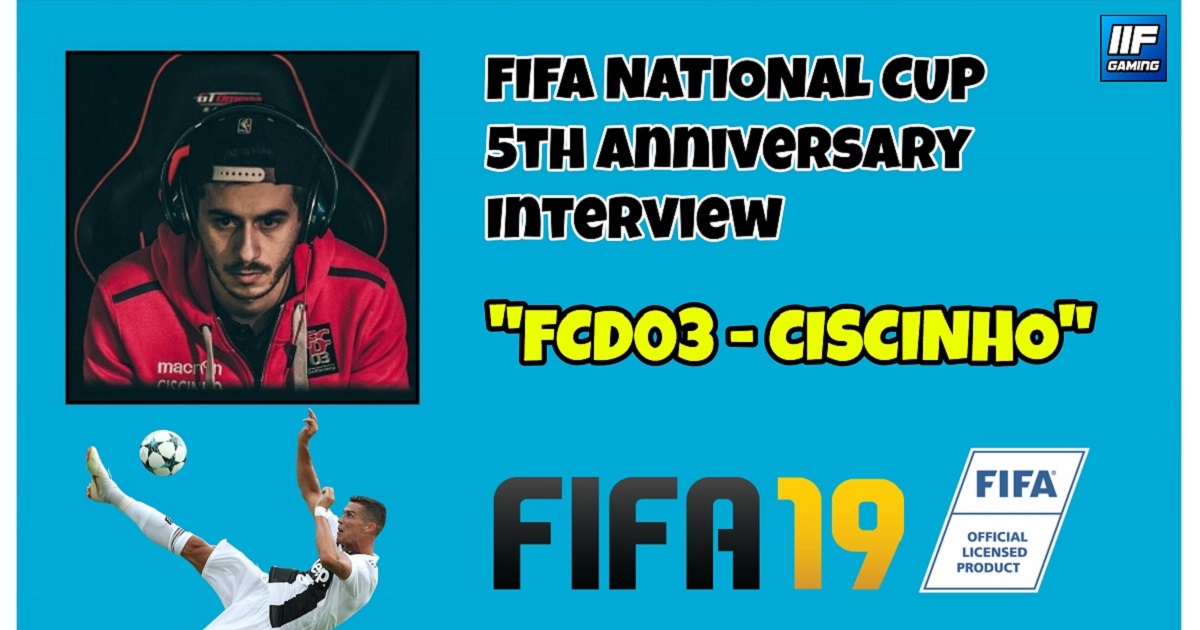 CISCINHO - FIFA 19 National Cup Interview (FR + ENG) !

(FR) Interview avec "FCD03 – Ciscinho", joueur "Esport Pro" représentant le club "FC Déifferdeng 03" sur tout type de competition.
1) Combien de fois as-tu participé à la « FIFA National Cup » et que représente ce tournoi pour toi ?
J'ai participé à toutes les éditions de la Fifa National Cup et j'ai réussi à remporter les 2 premières éditions et à finir 2e lors de la 3e édition. Personnellement, ce tournoi fait parti d'un des plus importants de l'année, car il permet de sacrer le meilleur joueur du Luxembourg. Seuls les meilleurs sont présents à la Belle Etoile et gagner ce tournoi prestigieux, signifie souvent que l'on est le numéro 1.
2) Quel est ton meilleur souvenir ?
Mon meilleur souvenir est le fait d'avoir remporter ce tournoi 2 années de suite. Ce n'est pas simple de le faire, car lors de la 2e édition, tout le monde voulait ma peau. Et donc remporter cette 2e édition était un bel exploit.
3) Quel est ton pire souvenir ?
Ma défaite l'année passée en 8e de finale face à Lux_Walter. Cette défaite était un peu amère car ça s'est joué à rien du tout. Ma défaite en finale de la 3e édition face à un allemand (Gooku94) est à la même hauteur car je n'étais pas loin de réaliser le triplé. 
4) Quel est ton rival N°1, l'homme à battre ?
Clairement, DiogoSantos26 (Progrès Niederkorn Esport). L'année passée a été son année et il a dominé la scène nationale en m'éliminant souvent des tournois. Il commence cette année également sur la même note en remportant le tournoi à la LGX. Il est clairement l'homme à battre.
5) Comment estimes-tu tes chances, quel est ton objectif personnel pour cette année ?
Je pense que je reste un des favoris du fait d'avoir remporté 2 fois ce tournoi et je pense que mes chances sont grandes. Mon objectif est le même que chaque année, devenir champion du Luxembourg.
Affrontez Ciscinho lors de la FIFA 19 National Cup :
Infos + Inscription : https://www.11f.lu/page/fifa-19-national-cup-60166
-------------------------------------


(ENG) Interview with "FCD03 - Ciscinho", "Esport Pro" representing the club "FC Déifferdeng 03" on every competition.
1) How many times have you participated in the FIFA National Cup and what does this tournament represent for you?
I participated in all editions of the Fifa National Cup and I managed to win the first 2 editions and finish 2nd in the 3rd edition. Personally, this tournament is part of one of the most important of the year, because it allows to crown the best player of Luxembourg. Only the best are present at the Belle Etoile and winning this prestigious tournament, often means that we are number 1.
2) What is your best memory?
My best memory is winning this tournament 2 years in a row. It is not easy to do it, because during the 2nd edition, everyone wanted to eliminate me. And so winning this 2nd edition was a great achievement.
3) What is your worst memory?
My defeat last year in the 8th finals against Lux_Walter. This defeat was a bit bitter because it was very close. My defeat in the final of the 3rd edition against a German player (Gooku94) is at the same height because I was close to achieving the treble.
4) What is your No. 1 rival, the man to beat?
Clearly, DiogoSantos26 (Progres Niederkorn Esport). Last year was his year and he dominated the national scene by often eliminating me in the tournaments. He starts this year also on the same note by winning the tournament at the LGX. He is clearly the man to beat.
5) How do you estimate your chances, what is your personal goal for this year?
I think I'm still a favorite of having won this tournament twice and I think my chances are great. My goal is the same as every year, become champion of Luxembourg.
Compete against Ciscinho at the FIFA 19 National Cup:
Infos + Registration: https://www.11f.lu/page/fifa-19-national-cup-60166